The Weekly View (11/6/17)
What's On Our Minds:
House Republicans released their long-awaited tax reform bill last week. They are calling the bill the Tax Cuts and Jobs Act and are looking to have it passed by the end of the year.  The bill aims to permanently lower the corporate tax rate from 35% to 20% and to reduce the number of individual tax brackets.  The plan eliminates the alternative minimum tax and it doubles the standard deduction for individuals and couples.  The plan limits the home interest deduction to loans up to $500,000, increases the child tax credit to $1,600, and doubles the estate tax exemption immediately and then will eliminate it by 2024.
Under the Republican plan, people will still be able to deduct up to $10,000 on the property taxes they pay locally, but they will no longer be able to deduct the other taxes they pay to state and local governments from their federal tax payments. This compromise appears to cater to a Republican's base living in states where local taxes are relatively low and has drawn criticism from GOP representatives from New York, New Jersey, and Pennsylvania.
The tax plan does not make direct changes to how income on your investment portfolio is taxed.  While the new plan doesn't directly address capital gains and investment income taxes, setting new income tax rates means many investors will pay less in taxes on short term capital gains and dividends because their ordinary income tax rate will effectively be lower.
Though cutting benefits for 401k contributions was allegedly on the table at first, the official plan makes no changes to retirement savings tax breaks provided by contributing to 401k and IRA accounts.  That is good news for investors saving for retirement.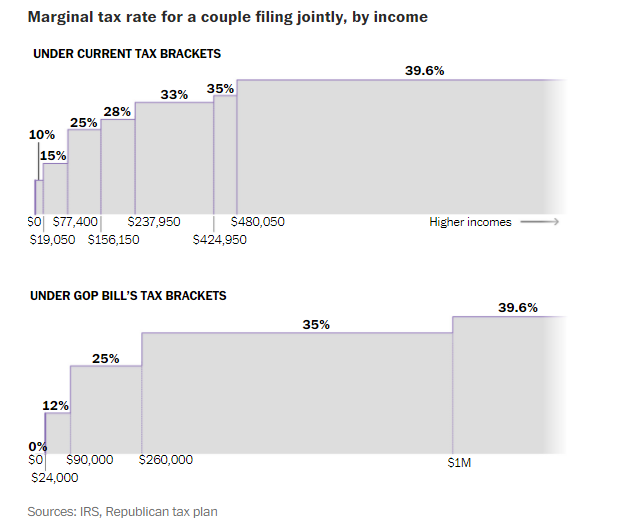 Last Week's Highlights:
Stocks has a strong week and were in the green for the eighth week in a row.
President Trump nominated Jerome Powell to replace Janet Yellen as the 16th chairman of the Federal Reserve board early next year. Powell is a lawyer by training who served as a top Treasury Department official under H.W. Bush and then joined the Carlyle Group (a private equity firm), where he remained from 1997 to 2005. President Obama nominated him for a spot on the Federal Board of Governors in 2012.  Powell has always been supportive of Yellen's moves, which suggests a continuation of slowly raising rates and easing regulations.
October's Jobs Report was released on Friday. Nonfarm payrolls rose by 261,000 and the unemployment rate dropped to 4.1%.
Earnings season continued. Facebook and Apple reported strong numbers. Baltimore's Under Armour reported poor performance and shares took a beating.
Looking Ahead:
We are getting close to the end of earnings season but hundreds of companies are set to report third-quarter results this week.  48 companies in the S&P 500 report earnings will share their results this week.  President Trump will spend the week touring Asia. University of Michigan's Consumer Sentiment report is set to be released on Friday.