The Weekly View (11/27/17)
What's On Our Minds:
Oil investors will be focused on the OPEC meeting this week. The Organization of Petroleum Exporting Countries (OPEC), which controls over 30% of the world's oil production, will meet this Thursday in Vienna, Austria to discuss the continuation of production cuts. The cartel agreed to a production cut at the meeting one year ago and investors are expecting a continuation of the deal – keeping roughly 1.8 million barrels a day offline.
Brent crude oil, the global oil benchmark, has risen 12% year-to-date and the price is near the highest level in nearly two years. The Brent crude oil futures curve has returned to backwardation – meaning that the Brent crude price today is higher than all future price in months and years ahead. Historically, a rotation into backwardation has been a bullish view for oil and despite the S&P Energy Index down 7% year-to-date, the index has rallied about 3.5% over the past three months as the futures curve has shifted.
It may be too soon to call, but the futures curve is saying the worst of the oil glut is behind us. Though that may not be an advantage for prices at the pump, client portfolios should benefit from rising energy stocks.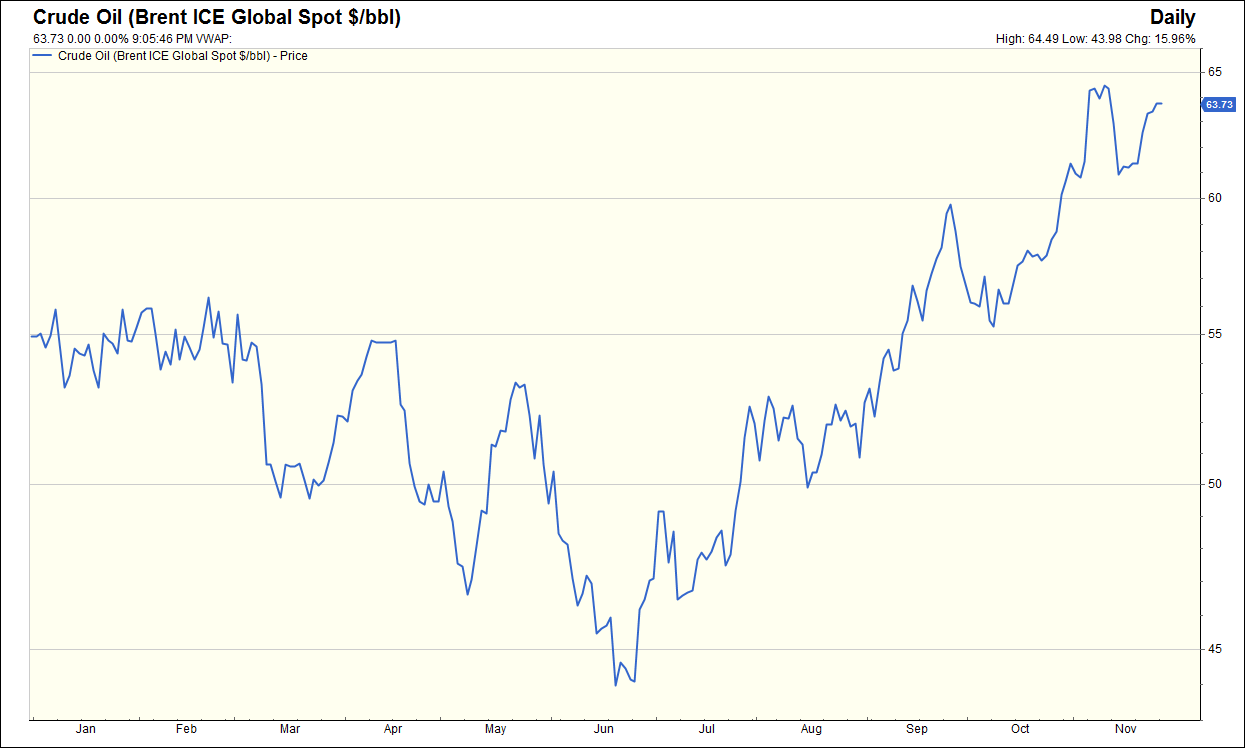 Last Week's Highlights:
Last week, the three major indexes reached all-time highs. The S&P 500 closed above 2,600 for the first time last Friday, despite lighter trading volumes due to the Thanksgiving holiday and a shortened trading session. The Dow Jones Industrial Average is less than 2% away from breaching the 24,000 mark and the technology driven Nasdaq is rapidly approaching 7,000. Earnings season is winding down with 98% of S&P 500 companies having reported earnings updates. Up to this point, S&P 500 earnings grew 6% year over year. In corporate news, Department of Justice is suing to block the AT&T merger with Time Warner.
Looking Ahead:
This week, investors will continue to monitor news out of the Federal Reserve as well as the White House. On Tuesday, Federal Reserve Governor Jerome Powell will have a confirmation hearing before Congress. Powell has been selected as the next Chair of the Federal Reserve once Chair Janet Yellen finishes her term. Also on Tuesday, President Trump is expected to meet with congressional leaders to discuss a deal that could avoid a government shutdown in December. On Wednesday, Fed Chair Yellen will provide her views on monetary policy. Finally, on Thursday, OPEC will meet to determine oil production strategy and the Senate will vote on tax legislation.