The Weekly View (12/18/17)
What's On Our Minds:
The economic team at Tufton has been thinking about employment quite a bit lately. We have a few internal reports, the first of which we've adapted here for our blog.
The employment rate has remained remarkably low, while wages have refused to budge. In theory, when labor is in low supply, employers will raise wages to attract talent. That increase in wages tells us that our economy is starting to heat up, and we need to be caution of above-trend growth- the kind that causes recessions. At least, that's how it's always happened in the past. What is different now? Our labor force is changing, in age, skill, and desires.
That is to say: not only are consumer preferences changing, but so are labor preferences, as evidenced by the below chart. The reasons for the labor force decline among young men are likely threefold: drugs, jail, and video games. The opiate epidemic has hit hard, especially in those young males who found themselves jobless. Additionally, supply has been fueled by drug companies who have pushed these drugs on doctors. Because of these and other causes, the percentage of previously-incarcerated males has risen from 1.8% in 1980 to 5.8% in 2010. Of course, this makes it harder for this segment to re-enter the workforce, and they may choose to stay on the sidelines. Finally, to the dismay of parents everywhere, it seems that many young men would rather simply stay home and play video games (see charts, from Bank of America / Merrill Lynch).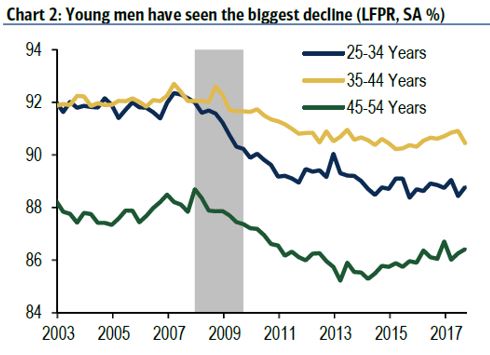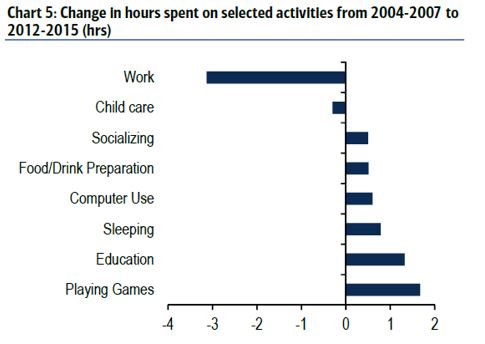 Last Week's Highlights:
We are experiencing a bonfire Santa Claus rally this month.
Markets continued their march higher as investors continue to weigh the impacts of the tax reform deal.  The S&P 500 rose nearly 1% and the Dow Jones added 1.3%.  The S&P experienced a drop on Thursday when Senator Marco Rubio said he would oppose the bill if it didn't include a larger tax credit for parents with children.  On Friday, senators gave in to Rubio's suggestions and equity markets charged to reach new all-time highs.  Since the tax reform bill passed in Congress, the S&P 500 has gained roughly 3%.
As investors had expected, the Federal Reserve increased its federal funds target rate by 25 basis points to 1.25%-1.5%.  Janet Yellen shared an optimistic view on the economy and upgraded the Fed's outlook on GDP growth citing the impact of corporate and personal tax cuts.

Looking Ahead:
Market futures are up big to begin the week before Christmas.  The House of Representatives is set to vote on the tax bill either Monday or Tuesday and Senate will vote shortly thereafter.
Important housing data will be in focus this week. New home starts and permit data will be released on Tuesday and new home sales will be reported on Friday.