The Weekly View (1/30/17)
What's On Our Minds:
As education costs continue to rise year after year, the expenses have become an even larger component of a family budget.  According to CollegeBoard.org, four years at a private nonprofit college, including tuition, fees, and room and board costs roughly $175,000 and a public four-year in state college, while less expensive, costs close to $80,000.  One of the best options for families is to save for future education costs by opening 529 plans for their children.
Anyone can open a 529 plan and may list anybody of their choice as the plan's beneficiary. Also, the plan's owner can change the beneficiary at any time. For Maryland residents, contributions to the account are tax deductible against your state income tax.
While the state income tax deduction is a good benefit, the real power behind a 529 comes from the tax-deferred growth and tax-free withdraws the the plan allows.  Distributions from the account are tax free so long as the funds go towards education expenses such as tuition, room and board, fees, books, or the purchase of necessary computer technology.  With a long term investment horizon these accounts can grow into considerable assets.  There will be added peace of mind knowing you don't have to dip into your own personal savings to pay for college and your child or grandchild won't be burdened by student loans when they graduate.
Tax issues around 529 plans get a bit complicated in that they count as a present interest taxable gift to the beneficiary of the account.  Because contributions technically qualify as gifts, limit your contributions to $14,000 per person to avoid paying federal gift taxes.  When saving for education costs it's important to remember, the earlier the better!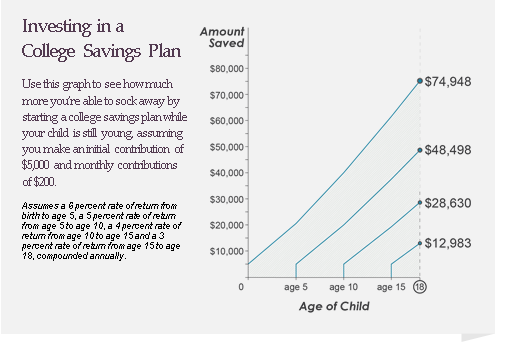 Last Week's Highlights:
Last Wednesday, for the first time in history, the Dow Jones Industrial broke through 20,000.  The new high water mark was celebrated on Wall Street.  The S&P 500 and the Nasdaq also closed at record highs on Wednesday.   In general, investor sentiment was up last week and it seemed that many were optimistic that Trump's economic policies will initiate a growth period.  Since the election, the S&P 500 has risen 7.2%.
Some merger news broke last week. Verizon is considering a merger with Charter Communications and Johnson & Johnson agreed to purchase the biotech firm, Artelion.
In economic news, it was reported that fourth quarter U.S. GDP increased by 1.9%.


Looking Ahead:
The Trump Rally has stumbled a bit going into this week after the President issued an executive order last Friday barring immigrants from seven Muslim-majority countries from entering the US.  The Dow opened below 20,000 on Monday morning.
Earnings season continues this week with Apple, Exxon, and UPS reporting on Tuesday. On Wednesday, the FOMC releases a policy statement on interest rates. Investors are not expecting the Fed to increase rates.  On Thursday, Donald Trump is planning on announcing his Supreme Court nominee and International Paper and Merck release their quarterly results. On Friday, we close out the week with Hershey reporting earnings.