The Weekly View (7/10/17)
What's On Our Minds:
Nonfarm payrolls rose 222,000 in June, beating economists' expectations.  Unemployment remains near historic lows at 4.4%. This came in well above economists' predictions of 178,000 jobs. April and May numbers were also revised upward. A negative in Friday's report was the wage growth numbers, which rose 2.5% from last year, below estimates of 2.6%. Wage growth continues to be slow and is another indicator of lower than expected inflation.
Economists believe low wage growth and inflation will give the Fed an even greater case to continue to tighten monetary policy. It is also important to realize these numbers are constantly revised, so all interpretations should be taken with a grain of salt. Moving forward, all eyes will be on wage growth and whether strong jobs numbers will have a positive effect on GDP growth, which has been tepid.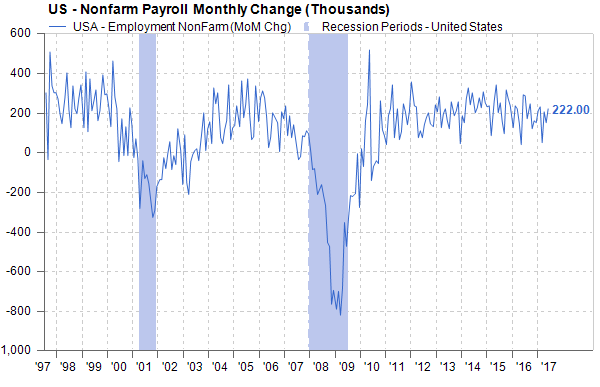 Another interesting topic is whether or not the natural employment rate is lower than once thought. The Fed believes the natural rate is somewhere between 4.7%-5.8%. Economists normally believe inflation should "catch" soon after employment dips below the natural rate and that a shortage in the labor market should force wages higher.   In theory, this should cause the economy to start to overheat, but this has yet to be seen in the current expansion.  Is the natural rate lower than once thought or is something else going on?
Last Week's Highlights:
With a mix of strong economic data and geopolitical uncertainty, markets eked out gains during the week of trading shortened by the July 4th holiday.  Both the S&P 500 and Dow Jones remain up by more than 8% for the year.  Stocks had a good day Friday after the June jobs report was released.  The Federal Reserve's meeting minutes were released, and the Fed discussed plans to continue unwinding its $4.5 trillion balance sheet.  The G20 summit and tensions with North Korea put geopolitics in the forefront of investors' minds.

Looking Ahead:
Janet Yellen will be speaking before Congress on Wednesday.  Investors are eager to hear what she will have to say regarding the Fed's reaction to recent jobs and inflation data.  Inflation and retail sales data will be released on Friday. Second quarter earnings season gets underway this week with reports coming out of J.P Morgan Chase, Wells Fargo, and Citigroup on Friday.