The Weekly View (9/5/17)
What's On Our Minds:
The S&P 500 has been on a ten-month run without a 3% sell off.  It has been a historically calm market that has some investors worried that we are long overdue for a pullback.  As we wrap up summer and move into fall, bears are concerned that markets are poised to get more volatile.
With plenty of geopolitical uncertainties currently in the mix, their worries are not without basis.  Congress must decide to raise the debt ceiling this month and the civilized world must deal with a North Korean regime that continues to threaten nuclear war.  Of course, the 24 hour news cycle is doing its best to frighten the average investor.
Optimists disagree with the bears and believe that any volatility spurred from these coming events will be short lived.  Bulls are pointing to recent double digit growth in corporate earnings and increased economic growth throughout the world as catalysts that can continue pushing the market higher.  Furthermore, market bears have continued to be disappointed this year as sell offs instigated by geopolitical and US political drama have been brief. (See the graph below from Deutsche Bank.)
At Tufton, we continue to remind our clients and friends that even though "noise" may affect equity markets from day to day, it remains crucial to remain focused on the long term.  Uncertainty is a fact of life in the investment business, and over the years, a disciplined approach through thick and thin has benefited our clients handsomely.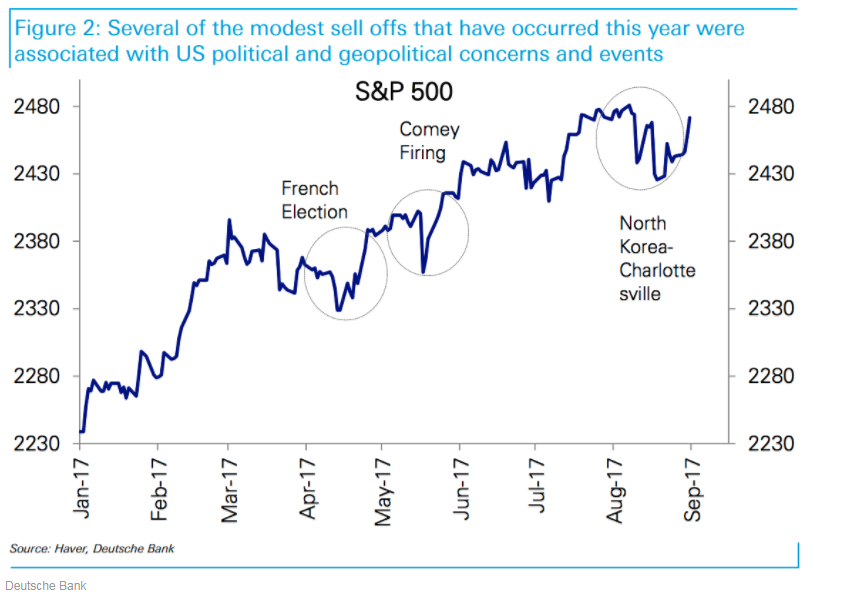 Last Week's Highlights:
Equity markets moved higher last week in the face of devastating flooding in Texas and more hostile moves by the North Korean regime.  Hurricane Harvey dumped 50 inches on rain in the Houston area, killed 46 people, and temporarily shut down a good portion of the nation's refineries which has pushed fuel prices higher.
Friday's job report was strong and showed that the U.S. economy added 156,000 jobs in August.  Treasury Secretary Steven Mnuchin said that the Trump administration and Congress will release more details on their plans to overhaul U.S. tax code in coming days.  United Technologies announced they are closing on a deal to acquire Rockwell Collins. Gilead Sciences announced it was purchasing Kite Pharma.

Looking Ahead:
Domestic markets were closed on Monday in observance of Labor Day.  Factory and durable goods orders will be reported on Tuesday.  The ISM non manufacturing index for August will be reported on Wednesday. The European Central Bank is meeting on Thursday to issue its decision on interest rates.  Another hurricane is making its way across the Atlantic and could potentially hit Florida and head into the Gulf of Mexico